Hailing from Greece. Formed in 2011 by Hellmaster 666 and Homados. Temple of Katharsis play a traditional style of Hellenic Black Metal, inspired by the early bands in the scene, while still adding their own touch to what the forefathers created. With the release of their newest album "Macabre Ritual" we have had the honor to interview vocalist and bassist Hellmaster 666.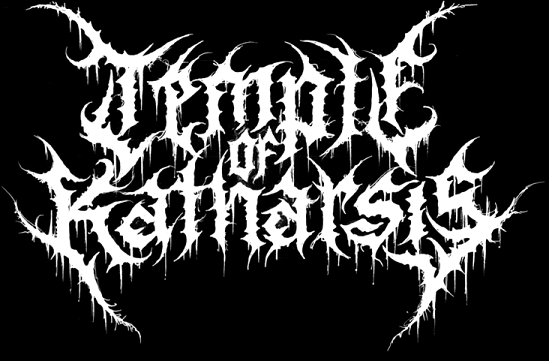 The word Katharsis which relates to the Ancient Greek word κάθαρσις meaning cleanse, which expands to cleansing or purification. Currently, I haven't seen your lyrics but going by my own perception. I see it as purification and cleansing the filth of the ego, this world and all its chains, dogmas etc. All that does not serve the higher self. So it could then be seen as a spiritual act or death of the ego and mundane self. Would you care to explain the meaning of the name "Temple of Katharsis" in your own words?
Yes. It's basically as you said. When I thought of the name Temple of Katharsis I had in my mind a temple where the soul ends up judged and will take its road to Hades.
You recently released your debut full length "Macabre Ritual" what would you say is the vision and ideology of this record?
The whole record is clearly a satanic, anti-religious but also occult vision I would say.
Now let's discuss the music on "Macabre Ritual" Almost traditional Hellenic Black Metal vibrations are to be found on this release, being from Greece, it might seem as a natural gravitation for those on the outside, looking in. Do you agree with this statement?
Yes, I would say that we were looking at the old-school side. We were always excited by the Hellenic spirit and Scandinavian flavor, always loyal to the 90s spirit.
Lyrically, what are you inspired by?
Satanism, opposition to every form of religion, darkness, death, and war!
Musically, what are your inspirations?
Gorgoroth, Mayhem, Burzum, and the 90s Greek scene, of course.
What goes into the creative process of your music?
I will tell you about the new release in this question. I initially composed some riffs and sent them to the guitarist Zeratul an, and then he prepared all the tracks. Many of the tracks on the record are definitely his from start to finish, and I took over the lyrical content except the track "Archpriest of the Wolves" which both lyrically and musically is by Zeratul. All drum compositions are works of Nodens.
Do you have any interest in other music besides black metal?
I will speak to you clearly from my side here. I'm a fan of metal music, so I only listen to metal. Apart from black metal, I really like brutal death metal and also black/death metal.
What is your view on artists who just create without any real devotion to the art?
Creation is art anyway, but not everyone can like everything. It is how everyone sees and perceives it.
Care to mention some of your favorite bands/artists?
Greek but also the Scandinavian scene where it expresses us fully and inspires us to create music. And beyond that mega beast bands where we started our first steps like Metallica, Iron Maiden, Judas Priest, Black Sabbath, and of course, the mighty SLAYER!!!!!!!!!!!!
Are there any plans for live shows?
Yes, of course, we want to play live shows. We are open to any proposal for a live appearance in and outside of Greece.
Thank you for taking the time to answer these questions. Final words are yours. Any thoughts you would like to share?
We thank you for honoring us for an interview. We would also like to thank all our fans who have supported us all these years. Glory to the enthroned Baphomet!!!
Links:
Facebook: https://www.facebook.com/templeofkatharsis
YouTube: https://www.youtube.com/channel/UCnO4OPByRCN4B9l-t2ia_3w
Bandcamp: https://templeofkatharsis.bandcamp.com/album/macabre-ritual